Official figures from the Higher Education Statistics Agency show that degree results are rising. More than 25% of graduates left with a first-class degree last year. This has risen from 18% in 2012-13.
The total number of qualifications achieved in 2016-17 also rose by 2%, ending the downward trend created by the new loan system. In the EU context, the UK had the second highest number of graduates, according to Eurostat. France was recorded as having the highest number of graduates, with 12 thousand more than the UK.
The picture is not so rosy for other types of qualifications, however, with the number of postgraduate certificate in education qualifications, foundation degrees and professional graduate certificate in education qualifications all declining. There has been a decline in the number of qualifications gained from Education subjects since 2012/13. This decline has coincided with an increase in the numbers of teachers qualifying through school-led routes.
First degree qualifications accounted for 55% of all higher education qualifications achieved. This reflects the fact that, according to the Office for National Statistics, in July to September 2017, 42% of the UK population aged 21 to 64 had achieved higher education qualifications.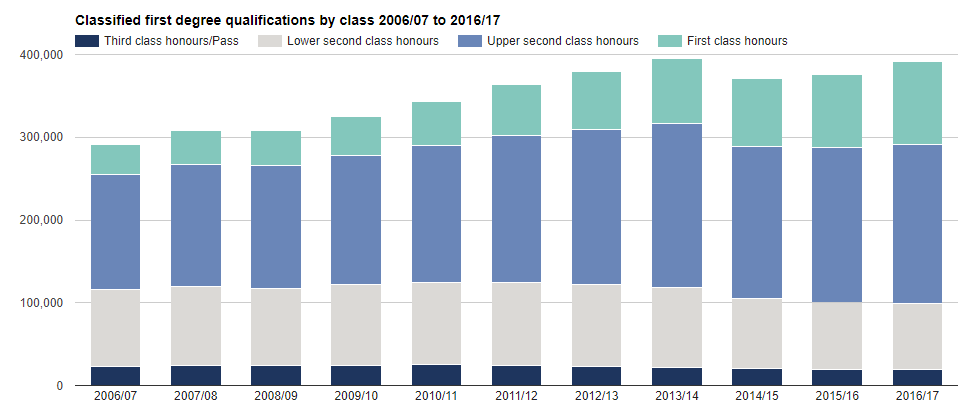 HESA
Business & administrative studies represent 17% of all qualifications gained, with the most qualifiers at first degree and postgraduate taught level, followed by subjects allied to medicine. At the postgraduate research level, the highest number of qualifications gained were in Biological Sciences.
There has been a continued increase in the proportion of Black and Minority Ethnic students amongst those who are UK domiciled with known ethnicity over the last five years. This increase is reflected across both full and part-time students. In 2016/17, 25% of full-time UK domiciled students were Black and Minority Ethnic.
For more news and student updates, follow Legal Loop on Facebook and Twitter.